About Us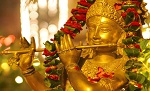 Ananda Krishna Van was established as a result of a dream, shared by its visionary founders. A dream that was to, radically improve the hospitality standards of Vrindavan by building world class real estate solutions and hospitality avenues. Ananda Krishna Van today has revolutionized the Hospitality standards in Vrindavan, and is the most preferred residential destination in Vrindavan. After a decade of spectacular growth in the field, we have acquired immense experience, consolidated and established assets and at the same time retained the energy, zeal and the vision of pushing boundaries further. Our foundations are entrenched in the solid bedrock of technical expertise and financial stability.

Ananda Krishna Van as an organization can be best envisaged as a creator of man made social infrastructure, where modern life blooms, in collaboration with the environment. We have a committed team to carry out technical and management expertise. With a vision and foresight gained by past experience Ananda Krishna Van has a roadmap for future development of reality business in the area by driving its growth through focused concentration on developing residential facilities, old age homes, and all integrated facilities, set in an ambiance of peace and tranquility so that our customers can escape the congestion of the metropolis, and benefit from the planned development with its attendant improvement in the life style. We endeavor to provide luxurious dwelling units with special emphasis on environmental improvement, social forestry and the utmost detail given to facilities and details.

Actions speak louder than words and nothing highlights this better as Ananda Krishna Van continues to conquer new horizons, thus pioneering and identifying new vistas of growth in the real estate field. In the New Year Ananda Krishna is focusing on ushering in new ventures in the areas of Mathura and Vrindavan and has confidence that our customers shall place their trust in our deep-rooted foundation of ethics, values and our commitment to our customers.